| | | |
| --- | --- | --- |
| | | SX Antivirus Kit 4.0 |
Platform: Win2000,WinXP,Win7 x32,Win7 x64,Windows 8,Windows 10,WinServer,WinOther,WinVista,WinVista x64

SX Antivirus Kit is the complete collection of all the FREE Virus Analysis, Detection, & Removal tools for Windows released by SecurityXploded

It contains the latest version of all the anti-virus and anti-spyware related tools for Windows. This makes it easy for you to get all these tools at one place without worrying about downloading each of them separately.

'SX Antivirus Kit' includes following Anti-virus related tools

* Autorun File Remover
* Chrome Malware Alert Blocker
* Exe Scan
* Hidden File Finder
* Net Share Monitor
* Shell Detect
* Spy BHO Remover
* Spy DLL Remover
* Stream Armor
* Virus Total Scanner
* Windows Autorun Disable
* Windows Service Manager


These tools will not only help you in monitoring the health of your computer but also in systematic analysis and removal of any malicious/spyware elements from your system.

All of these softwares work over wide range of platforms starting from Windows XP to Windows 10

Click to Enlarge

Publisher:
SecurityXploded | More by SecurityXploded | Visit Home Page
Downloads:
so far this month, 3 last month, 21 total
License:
Freeware Buy Now
Last updated:
9 months ago (28 Dec 16)
Install support:
Install and Uninstall
Recent changes:
Mega 2016 edition with latest version of anti-spyware tools working on Windows 10 version.
Publisher Country:
India
Watch for updates:

Tell a friend... | Add to My CD | What's on My CD Ask a question about SX Antivirus Kit

Add this link to your website:

Or to a forum:



| | |
| --- | --- |
| STOPzilla AntiVirus 3pc/1yr - Â  NEW System Health Check Computers often have performance issues unrelated to malware or viruses. STOPzilla can now perform a deep system analysis to identify certain problem areas that may... ... | |
Reviews
Free
Download
10 Feb 2017
Reviews (6)
Metadefender Cloud Client is the most thorough free malware analysis tool available. A lightweight tool, it scans endpoints for viruses, keyloggers, and other malware. Metadefender Cloud...
Freeware
|
Buy Now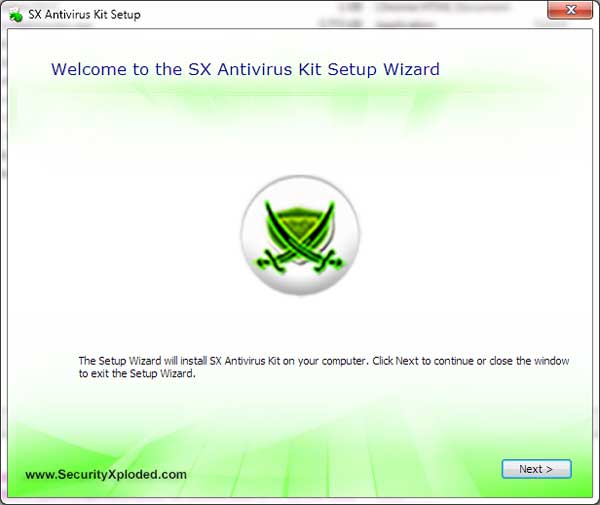 Download
28 Dec 2016
Reviews (1)
SX Antivirus Kit is the complete collection of all the FREE Virus Analysis, Detection, & Removal tools for Windows released by SecurityXploded It contains the latest version of all the...
Freeware
|
Buy Now
Download
27 Feb 2013
Reviews (7)
ZENOK FREE ANTIVIRUS 2012 (Just released) is a full-featured Professional data protection suite that comes really complete. With ZenOK your PC does not get any viruses. The multi-layered...
Freeware
|
Buy Now
Cheap - Less than $10
No Results